Hello, my name is Polina and I share this Wandering Class with my boyfriend Corey. We met on OkCupid long distance.. (does that exist anymore?) and have been together for the last four years - together but apart; I am in Chicago and he in Minneapolis. Our crave for travel brought us together and made us sort of crazy...in a good way! In the last full year of knowing each other we had traveled to Bahamas, Tampa, Vegas, Alaska, Hungary, Germany, Austria, Ghana, and the Netherlands. Mind you we work full time jobs so we really make traveling a top priority!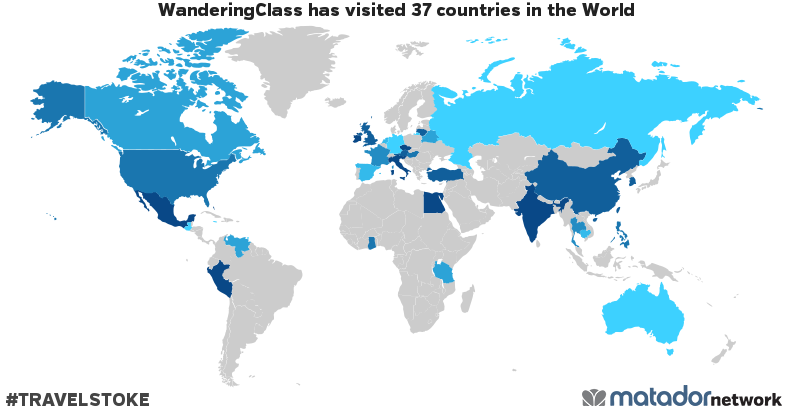 WanderingClass has been to: Austria, Australia, Bahamas, Belarus, Canada, People's Republic of China, Czech Republic, Germany, Dominica, Egypt, Spain, France, United Kingdom, Ghana, Guatemala, Hong Kong, Hungary, Ireland, India, Italy, Jamaica, Cambodia, South Korea, Cayman Islands, Lithuania, Mexico, Netherlands, Peru, Philippines, Russia, Thailand, Turkey, Trinidad and Tobago, Taiwan, Tanzania, United States, Venezuela.
Get your own travel map from Matador Network.

So join us while we continue to share our journey through stories, tips, videos, and photos.. We hope the Wandering Class is an element of you too.
Roots - Born in Tyumen, Russia. Moved to US in 1996 and moved to West Michigan.. specifically Holland (yay Tulip Time!)
Home Base - Chicago, IL
Day Job - VP of Finance & Operations in Healthcare, CPA, and just bought my first tri-plex, so side gig Landlord!
Memorable Adventures - 4 Months Studying Abroad in India... Fleeing Typhoon Yolanda in the Philippines!
Country Count - 27 countries and South Africa for the remainder of 2017!
Who's Corey
Roots - Born in Seattle, Washington
Home Base - Minneapolis, MN
Day Job - Procurement Manager for an Injection Molding Shop
Memorable Adventures - The Fiestas of San Fermin (The Running of the Bulls), Summiting Mt. Kilimanjaro, and being evacuated from Cairo by the State Department during the Uprising in 2011.
Country Count - 33 Countries (6 Continents) and South Africa to finish off 2017.