We stumbled across a "Most Unique Hostels in Europe" article and came across this Hostel in Budapest. Considering we were in need of accommodations for our Fall trip, why not stay at one of the most unique hostels in Europe? Lavender Circus it was for our group of 5.
We are so happy you're here, we hope that you follow, like, and share our content! We truly love feedback so if you were enlightened or feel we missed something important, please comment below!
Here's our quick overview of Lavender Circus Hostel in Budapest, Hungary:
Check-in & Lobby
The check-in and lobby area is a small living room/kitchen/hangout space full of character. The above photo is of the kitchen and as you can see there are so many little details that go into this hostel: chairs, shoes, mugs, and other items that don't usually find themselves on walls!
Another view of the eclectic kitchen/lobby area. There are small notes all over the doors from past guests reviewing their stay, we love all of the character!
Throw the windows you get some wonderful day light, believe it or not, this view is of an outdoor space between buildings. Which does keep the street noise out, but any noise inside the inner alley certainly resonates.
Most rooms at the hostel are 2 Person private suites with shared bathrooms. Each room is completely different from any other room in the hostel and boasts its own unique character with fixtures, furniture, drawn art, and random items on the wall.

Unlike other hostels, Lavender Circus hostel reminds us more of a hotel as there aren't rooms that accommodate more than 4 people.
Above picture was hand drawn art on the walls, it was actually quite tranquil and looking onto this drawing reminded me of looking out into a peaceful lake.
That Mermaid on the right was Florence from Florence & Machine.. how perfect.
Checking out the treasures on the top bunk of the lobby!
Outdoor Space
The outdoor space is on the interior of a large building block so there isn't a scene to look at or noise of passing cars. This is just a peaceful space to hang out, dry some laundry, and enjoy the art!
More things to know before booking:
This hostel's character is more in line with a peaceful stay away from all the commotion
There isn't a bar or club but a chill lounging living room area with maps, books, and a kitchen
The hostel staff will take the time to sit with you and give you recommendations around town for things to do and eat. Check out our Budapest to do list here!
This hostel is walking distance (15 minutes) from city center and Jewish district (bars & restaurants).
How to book:
Book using our affiliate link below with Hostelworld. This website is great to get reviews and more info on hostel accommodations, we trust Hostelworld for our Hostel booking, and we wouldn't recommend it if we didn't!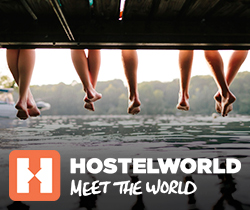 Thank you for following along with our adventures through our past and future travels. We want to share as much insight as possible.. so we want you to take a second and share your email for our upcoming newsletter!